Terramite T9 Backhoe
Interesed in using this equipment? Inquire below:
Description
Terramite T9 Backhoe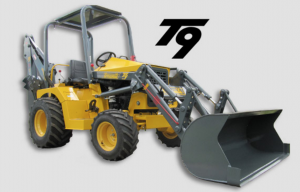 The Terramite T9 CTLB still provides a compact footprint, but has the power needed for larger jobs. This model can still work in areas inaccessible by larger machines, and can be towed with a 3/4 ton pickup truck.
The T9 comes standard with a Kubota 32.8 HP Diesel engine with an option for 2WD or 4WD. The high capacity front loader bucket provides for a faster cycle time, and has a dump height of 102". The T9 has a quick attach rear bucket that allows for bucket change out in seconds.
The front bucket has an available 4-in-1 option that enables the front loader to scrape, load, carry and grab. This model is flexible, durable and the easiest machine to maintain and service in its class.